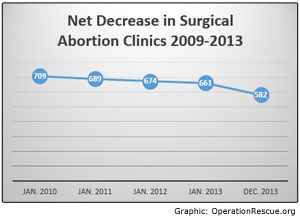 Washington, DC – Operation Rescue has concluded an exhaustive survey of abortion clinics in the U.S. and announces today that it has documented a record number of abortion clinic closures in 2013, during which time 87 surgical abortion clinics halted abortions.
The total number of surgical abortion clinics left in the U.S. is now 582. This represents an impressive 12% net decrease in surgical abortion clinics in 2013 alone, and a 73% drop from a high in 1991 of 2,176.
"These numbers show that the pro-life movement is gaining ground and that the abortion industry is collapsing – mostly due to its own negligence and greed, which has been exposed by their unwillingness and inability to comply with even the most rudimentary safety standards," said Troy Newman, president of Operation Rescue.
The state with the most closures was Texas at 11, most of which shut down after Texas passed an abortion law earlier this year that required abortionists to maintain local hospital privileges. New clinic safety rules accounted for closures in Pennsylvania and Maryland as well.
"Much of the legislation that is now closing abortion clinics was inspired by information gathered by pro-life groups, including Operation Rescue, which have increasingly publicized documentation of abortion abuses.  Once legislators find out what is really going on at abortion clinics in their states, they understand the urgency of passing pro-life laws that protect women and their babies from clinics that prey on their vulnerabilities."
Operation Rescue has released a detailed report concerning abortion clinic closures that can be found at Operation Rescue.org.