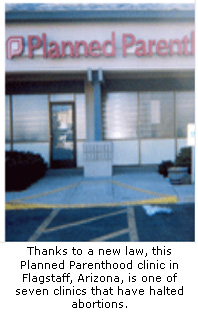 Phoenix, AZ – As of today, Planned Parenthood of Arizona has halted abortions at seven of its clinics after an Appellate Court ruling allowed a 2009 safety standards law to go into effect.
"Today, the women of Arizona are a little safer because of new laws that force abortion clinics to stop cutting corners on women's health and safety," said Operation Rescue President Troy Newman. "We predict a dramatic decline in the number of abortions in Arizona in the coming years since there will be fewer locations marketing abortions to women."
Abortions will no longer be available at Planned Parenthood clinics in Prescott Valley, Flagstaff, Yuma, Goodyear, northeast Phoenix, and Chandler locations where non-physicians had been doing abortions by administering abortion pills.
The law also requires that licensed physicians provide women with in-person consultations at least 24 hours prior to their abortions and that minors obtained motorized parental consent prior to their abortions.
"Planned Parenthood can no longer exploit vulnerable women by subjecting them to dangerous abortions done by non-physicians. They have chosen to stop their now illegal abortion operations, rather than bring their abortion businesses into compliance, and that is a huge victory for women and their pre-born babies that this law was enacted to protect."
Planned Parenthood will continue doing abortions at two clinics in the Tempe area and one in Tuscon.
Several states have recently passed abortion clinic safety standards. In Kansas, a sweeping law that would make abortion clinics operate at the same standards as other medical clinics is currently being challenged in Federal Court by two abortion clinics that refuse to meet the new standards. In light of the Arizona ruling, their challenge is now less likely to succeed.
In Texas, Planned Parenthood will close seven abortion referral clinics by the end of September as a result of the state stopping the flow of tax dollars to the abortion giant.
"Pro-life legislation such as the Arizona and Texas laws are effective at stopping abortion and saving lives today, while we work towards the future when the antiquated and barbaric practice of abortion is tossed in the trash heap of history where it belongs," said Newman. "With the vast resources now available to assist pregnant women, abortion is an unnecessary and uncivilized act with no place in the modern world. The majority of Americans believe that, and now we are seeing our laws reflect it."