At first glance the old Turner Schoolhouse in Rockford, Illinois looked pretty normal.
Looking at it made me think of little kids running down the hall, or playing in the yard. I could imagine girls skipping rope and boys playing dodge ball.
At first glance it brought pleasant thoughts of innocent youth.
I got out of the car and walked over to the sidewalk and the images quickly disappeared. Up in one of the windows was a chicken hanging from a noose. In another window was a casket with a nun in it. All over the building were speakers and closed circuit cameras pointing out at the sidewalks. In the front corner of the lawn was a big sign with two shotguns on it that read Fort Turner Abortion Clinic.
It was hard to believe that this former schoolhouse, that once echoed with little voices playing and learning, was now being used to murder children. The images and voices I had earlier enjoyed now turned to horror as I held back the tears. I thought about the news and how we are fed up with violence in schools, yet this school was used solely for violence.
I wondered, where are all the preachers and religious leaders that cry out on the news for the children killed in schools? Why aren't they crying out for the little babies being murdered openly in this old school?
On the sidewalk, a handful of Christians gather to pray and offer counseling to women that go into the clinic. Inside, a man who lives in the building yells obscenities through the loud speakers and blasts obnoxious music trying to distract them.
In spite of his efforts, those praying out front faithfully show up every time the abortion mill opens. Although I was only visiting Rockford that day, the faithful residents were happy to have someone else join their efforts.
This particular abortion mill happens to be in Rockford, but there are different buildings all over the country where this violence takes place everyday.
Chances are, you pass one by as you are going to work or school or are out running errands.
At first glance you may not even realize what is going on.
I want to encourage you to take a closer look at what is going on in your community, look in the phone book and find out if there is an abortion mill in your neighborhood. Next time you drive by it, stop and look at the building for what it is—a place where babies are being murdered, people who have no voice to cry out.
Can you be their voice? Can you cry out for them? Or will you just drive by and ignore the silent screams of these innocent children as they are being led away to slaughter?
Proverbs 24:11, "Rescue those being led away to death, hold back those staggering toward slaughter." NIV
Receptionists tells callers that the clinic is permanently closed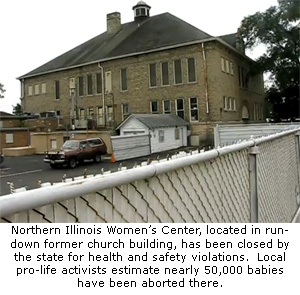 Rockford, IL — The notorious Northern Illinois Women's Center in Rockford, Illinois, was ordered closed by the State after it failed to comply with numerous health code violations, according to an order that was issued on September 20, 2011.
A woman answering the clinic's phone this morning told the caller that the clinic had permanently stopped providing all services, including abortions. She offered referrals for pregnancy tests to the Health Department.
"This abortion mill couldn't be closed fast enough. Not only is it a danger to the public, but it was the heart of despicable attacks on Christians and their faith," said Operation Rescue President Troy Newman. "It's no wonder that this clinic had been called 'evil' and a 'House of Horror.'"
The abortion clinic is located in an ill-kept former church building that was first licensed in 1992. It was initially inspected June 6-8 where numerous violations of the state Ambulatory Surgical Treatment Center Licensing Requirements Code and Illinois Administrative Procedure Act. Inspectors returned on September 15 and found that the violations had not been addressed.
According to the Rockford Register Star, inspectors discovered during the inspection on September 15 that neither of the two abortionists had required hospital privileges. The clinic had no registered nurse present during invasive procedures as required, nor was a registered nurse to supervise the nursing care of patients. The clinic also lacked an agreement with a licensed laboratory to conduct tests not done at the clinic.
Also, inspectors found that all three of the abortion rooms "failed to ensure a sanitary environment." Surgical instruments were not sanitized, and "brown substances" were found on surgical equipment and gloves.
The owners of NIWC were outrageous in their behavior toward pro-life supporters who endured much abuse while offering assistance to abortion-bound women. The clinic was known to display sacrilegious images, including a rubber chicken dangling from a cross, and signage mocking pro-lifers and Christianity. In 2009, pro-lifers filed suit against the clinic for video-taped a rant by an operative of the clinic that included racial slurs and attacks.
"The closure of this clinic is a testament to the faithfulness of the local activists who would not give up in the face of adversity and persecution. We congratulate them," said Newman.
"It is also another example of how enforcement of laws already on the books can shut down abortion clinics now. We know from our long experience that when abortion clinics close, lives are saved. Pro-lifers everywhere should demand health inspections of the abortion clinics in their areas and demand that abortion and health code laws be strictly enforced."
Below is an example of the outrageous abortion clinic conduct that pro-lifers had to endure in Rockford. Caution: Offensive images